---
Grow Your Dental Practice With Google Advertising

Based on the analysis of 400 dental practices and their Google Ads campaign
Several months ago, I started a research project that analyzed 400 Google Ad campaigns belonging to 400 dental practices of all specializations. This included general dentistry, pediatrics, oral surgeons, and orthodontists. My goal was to understand if dental practices were maximizing their ad dollars with Google Ads.
Based on the data we collected, I came to the following conclusion:
Dental practices aren't making money from Google Ads.
This guide will explain why and how to avoid these mistakes altogether, especially when dealing with marketing agencies.
This eguide will show you two things;
The common mistakes every dental practice makes with Google Advertising.

How to leverage marketing best practices to generate more patients than you ever thought possible
You want to download this easy-to-read-guide if you want more patients from any of the following areas:
Invisalign

oral surgery

orthodontics

dental implants

cosmetic dentistry
This is an easy to read guide
It's something you can digest while you're scarfing down lunch at Chipotle.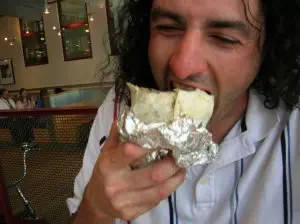 You're busy helping patients with their oral healthcare. You don't have time to understand a technical subject like Google Advertising. I know that. So I wrote this in an easy-to-understand manner – it's filled with plenty of visuals and graphics.
Your practice will benefit greatly from reading this guide. Here are some of the concepts I discuss inside:
The 15 elements you need on your landing page to convert more prospects into actual patients
The 3 elements your Google ad copy should have.
I discuss breakthrough tactics to develop trust with website visitors:

The 3 different ways to communicate credibility on your landing page

How to convey authenticity through the landing page

Why relying on stock images can hurt your lead generation
Apply this tactic if you want to attract more high value treatments such as dental implants, veneers, or Invisalign:
How to make expensive treatments seem cheaper and increase bookings without actually lowering your price. 
Hold your marketing agency accountable:
The one software you need to use in order to know if you're paid ads are working. Use the software to ensure your marketing agency is doing what they promised you
Why Download This Free Book?
You're the owner or office manager of a dental practice and you want to see it succeed. Duh.

You don't want to wait 

6-12 months for SEO to produce results

. If you want immediate results, then a paid advertising program is the best place the start

You want to 

educate yourself

 and avoid falling prey to the shallow empty promises of digital marketing and SEO agencies

It's an 

easy 40 page read that can be done in an afternoon. Half of the book is filled with screenshots so fewer words for you to digest


Because the health of your business depends on it!
About
Hi. Dean Hua here. I'm what happens if Stanley Tucci was Asian and decided to be an ad strategist rather than a Hollywood actor.

I've been in digital marketing since the Myspace days. I also have 6+ years in paid advertising with more than 7 figures in career adspend. I'm the principal behind Sachi Studio and author of this ebook you're about to read.

On a personal note, I'm a longtime Washingtonian. This means I'm stuck in traffic for 2 hours a day and am a jaded DC sports fan. I can only take comfort in the fact that Cleveland Browns have it worse than us!

On a more positive note, I love the great outdoors and a good jump rope workout routine. I drink lots of Perrier Sparkling Water and believe dogs are truly man's best friend.
"Don't hire an ad agency before reading this book"
Prior to reading this guide, I didn't realize the mistakes my marketing agency was making with our Adwords campaign. I only wish I knew about this book earlier because it would've saved us alot of money. Don't hire an ads agency before reading this book!