Background:
Local physical therapy office located in a small market suburb. They had hired two other marketing agencies before hiring us, and both were retained for three months. This is a snapshot of how each agency performed for Google Ads, including mine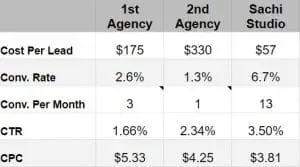 As you can see, we blew the previous two agencies out of the water 🙂 Compared to the 1st and 2nd agencies, we reduced CPL by 67% and 82%, respectively. We nearly 3x conversion rates against the first agency and 5x it against the second agency.
In this email, I will overview four tactics we use to drive cheaper leads for our clients.

1 – Avoid machine learning and smart bidding strategies
One of the previous agencies tried using one of Google's Smart Bidding strategies to optimize and scale. It failed miserably. This is a common mistake many novices, and marketing agencies make with Google advertising. They believe the narrative that Google's Smart Bidding algorithm is smart enough to optimize for you. 
It's not.
What is a Google Smart Bidding Strategy? 
These are automated bidding strategies such as Target ROAS, Target CPA, Max conversions, and max clicks. You input a few variables and let Google do all the work. It sounds enticing. 
It's not. For these algorithmic-based tactics to work, they need a lot of conversion data. And most new campaigns don't have enough conversion data to optimize correctly. This results in your performance tanking faster than expected. 
Solution?
We always start with bidding manually. We rely on our deep experience from managing a lot of campaigns. Once we generate enough conversion data, and if appropriate, we'll pivot to a Smart Bidding Strategy.
I trust in my years of experience to succeed with a manual bidding approach before relying on any form of machine learning.
Here's an informal poll of media buyers. They were asked if they trusted in Google's algorithm to make the proper recommendations. Only 10% of us trusted Google.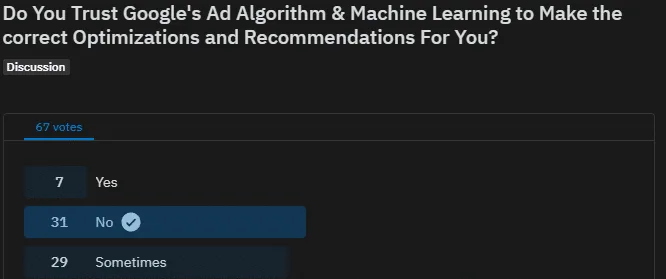 2 – Use High Converting Landing pages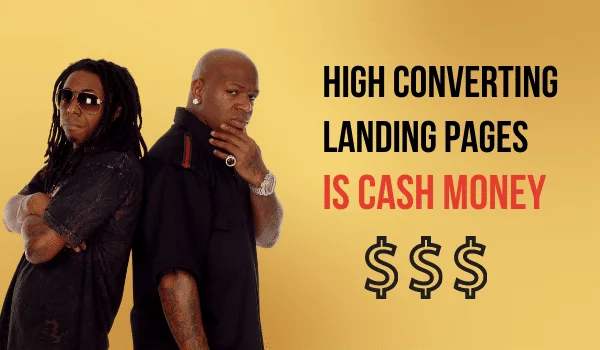 High Converting landing pages are your best friend. You've heard me talk about this ad nauseam in previous emails. Heck, I wrote an entire eguide on this, re: Super High Converting Landing Pages.
Both agencies used "inside pages" or "services page" from the existing website as the landing page. This is a lazy approach to paid ads. When you're spending good money on ads, you need to take the time to create a custom landing page where web copy and design elements are super optimized. 
And as was the case with both prior agencies, they were directing traffic to an existing services page to save time and money. Unfortunately, this is always at the expense of clients.
We stripped away the navigation menu, wrote persuasive relevant content, and ensured the design was tight. 
For the sake of brevity, I won't go into every single detail, but you can download and read my landing page guide, if you need a refresher.
3 – Run a location-based tiered bidding strategy
Of all the changes I implemented, this moved the needle the most.
Anyone who runs a local business will tell you that your distance to the customer will make a big difference. The farther away you are from the prospect, the less likely they are to visit you because they have other local options they can shop from. 
I refer to this as "distance friction," a common issue with local businesses such as gyms, retail, and doctor's offices.
Knowing this, we ran a location-based tiered strategy. We divided our campaigns into two location budgets: 
Tier A = zip codes that were closest to the PT office
Tier B = zip codes that were farther away
Creating 2 location buckets allows for more nuance in our bidding strategy. We spent less for each keyword in Tier B than Tier A because we knew that Tier B traffic wasn't going to convert as high. That's not to say that prospects from Tier B weren't going to visit convert. They were just less likely to do so relative to Tier A. 
Breaking out the traffic into location buckets made it easier to monitor and optimize our cost per lead. 
Whereas, if we lumped all locations into one campaign, it would be harder to optimize.
If we didn't implement this approach, I'm confident that the Cost Per Conversion would've been much higher.
4 – Avoid low intent keywords
Every niche has two buckets of keywords: high intent keywords and research-based keywords. The former implies web traffic that is likely to do business with you now. The latter represents web traffic that isn't ready right now. They may not be prepared until several months from now, if at all.
A high intent keyword for this niche would be "physical therapist back pain". A research-based keyword with low buyer's intent would be "how to treat back pain" or "how to do physical therapy". 
One of the previous agencies was bidding on these low-intent keywords and didn't understand the customer buyer's journey. Coupled with everything else they were doing wrong, you can see why the cost per conversions were so high.
My experience with previous doctor's offices told me that bidding on research-based keywords yielded low results. So we did two things:
Don't bid on them (duh)
Develop a negative keyword-list of common low buyer's intent search queries like this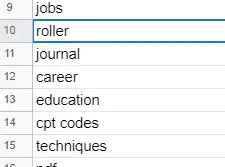 This brings down the cost per conversion dramatically while allowing us to advertise efficiently.
Coupled with several other secondary tactics, this is how we lowered the cost per lead by 82% for a service-based business.
In summary;
Avoid the hype; don't use Google's Smart Bidding Strategy for smaller accounts
Invest into high converting landing pages
Optimize by locations
Avoid low intent keywords