You're running a paid ads campaign via Google or Facebook Ads, but you're only able to convert a small percentage of traffic. You've implemented every trick in the Conversion Rate Optimization playbook, and you can't convert any more than what you already have. And you're not sure what else to do?
Let me introduce you to a powerful tactic that we call Facebook remarketing ads. With this tactic, you'll be able to;
Address every objection that a prospect has.
Stay top of mind to those who have been exposed to your advertising.
Turn unconverted traffic into new customers.
What Are Facebook Remarketing Ads?
Remarketing helps maximize marketing dollars by targeting your advertising to those who may have already shown interest in your brand. Once someone visited your site (through organic or paid media), you can begin reaching them with Facebook remarketing ads.
How Do Facebook Remarketing Ads Work?
To target existing traffic from your website, you will need to install what is known as a Facebook Pixel to your website pages. A pixel is a tracking code that will tag users who visit your website. Once they are tagged, they will start to see your ads as they scroll through their Facebook newsfeed.
The Advantages of Facebook Remarketing Ads
Whether you are a new business looking to build a customer base or an established company keeping your clientele engaged, Facebook Remarketing Ads is a powerful way to engage on the world's most popular platform.
Relative to doing cold Facebook Ads, remarketing offers three distinct advantages:
1 – Cheaper clicks 
The cost per click (CPC) is generally less expensive than cold advertising clicks. The cheaper CPC means you can save on ad spend while maximizing effectiveness.
2 – Higher ROI
Because you're targeting people who have been exposed to you at least once, you have a higher chance of acquiring a new customer than if you had gone through cold ads, which requires a larger budget and more effort to convert a prospect.
3 – Requires smaller budget
Because you're targeting existing web traffic, you won't need a budget as you would with cold advertising. I've seen businesses get away with only spending $300 a month and net a positive Return on Ad Spend (ROAS).
A smaller budget allows you to get your feet wet in the proverbial (paid media) ocean. Here's a screenshot of a client who only spent $300 over 2 months and got a 7x Return on Ad Spend (ROAS) on his budget through Facebook remarketing.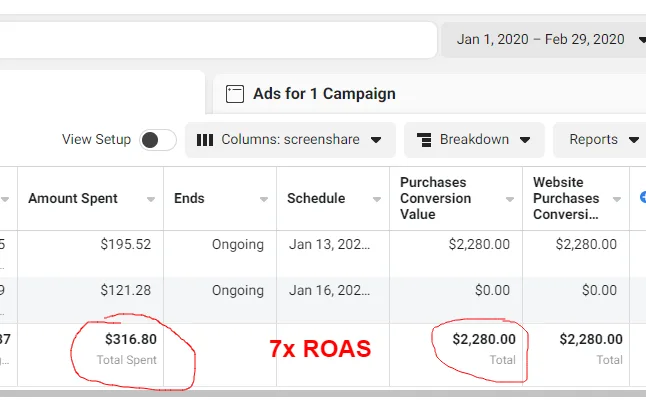 If want this sort of performance, read more on how our Facebook advertising can help your business.
Facebook Remarketing Ads Tips
If you are convinced of the value of using Facebook Remarketing Ads, how can you ensure that you use them to their full advantage?
Here are four tactics we use when working with businesses to ensure their Facebook Remarketing Ads are effective at converting lost traffic:
1 – Invest in high-quality creatives
Facebook Remarketing Ads work best when brands use authentic and engaging images, videos, and text prompts that "stop the scroll" and catch a user's eyes. Avoid using stock images and generic wording at all costs.
2 –Utilize video ads
Video content can be more time-consuming and expensive to create, but the ROI on video content is much higher. The Facebook platform wants to keep users on its platform. They do this by rewarding content creators with more exposure to their videos because, unlike image ads, video ads are more engaging to watch.
3 – Keep a rotation of ads running
Too many small businesses rely on one or two ads as part of their entire remarketing library. Unfortunately, this can lead to "ad fatigue" as consumers will get tired of seeing the same ads. I recommend starting with a rotation of 4-6 ads to help reduce ad fatigue. There's a reason why Geico pumps out as many commercial ads as they do. They need to keep their brand "fresh."
4 –Test, test, and test some more
I'm a firm believer in incremental wins. A/B split testing allows you to understand which ads perform and which you should replace with a new set. We focus on split testing headlines, body copy, and the actual images or video. 
Out of all of the paid media options, Facebook remarketing ads is probably the least painful option to implement, given that you're reaching an audience that has already heard of you, and it costs a lot less than cold Facebook Ads.
Contact us today if you want to arrange for a consultation on how our paid media campaigns can help your small business.