The following is a case study by Facebook marketer, Diego Campas. He recently applied a lead generation and conversion strategy for a high-end restaurant in Peru and generated 113 reservations in 14 days of working with them!
—————
Here are my 4 key takeaways:
1) Always have a clear lead generation strategy:
An excellent way is to run a giveaway, but you could also do viral quizzes or other lead capturing methods.
If you are going to run a giveaway, keep in mind the following tips:
Make sure the prize is a good one, or at least that there is a clear high perceived value from it.
In order to make the giveaway viral, make sure you ask the people to tag their friends, share it publicly in their walls and also add a registration link in order to capture the participants emails.
Make sure your giveaway post shows the value of your giveaway. This will increase CTR and the number of participants.
Once the participants have tagged their friends and shared the post in their walls, they will go to the link to register their emails. The link will take the participants to a funnel.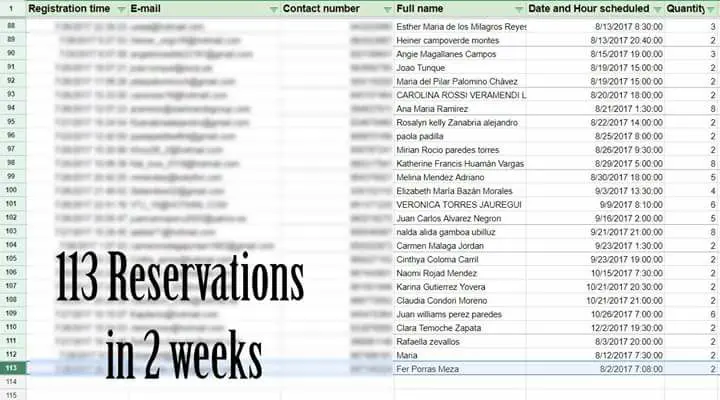 FUNNEL: In order to increase your conversion rates, make sure it looks great and the instructions are clear.
Also if possible include pictures of the prize you will be giving away, as well as testimonies and information from your local business. After the participant opts in his email, the next stage is a "Thank you page". In here you will ask people for the following:
Ask them to check their emails for a final verification step.
Invite everyone to RSVP to a Facebook event (previously created) "SUPER GIVEAWAY", which will take place in your local business the day of the giveaway. Mentiont that there will be additional surprises that day for the people that attend.
2) Lead nurturing strategy is the key to sales/reservations/conversions
For those you who believe in the power of email marketing, this is a great opportunity to use it. Depending on the budget you have assigned to your giveaway, you may be getting from 50 to 150 leads per day.
So what you have to do now is email your leads every single day. Make sure your emails:
Connect with your clients, touch their needs and desires for which they would go eat at your restaurant.
Mixes value emails and offer emails (Try to include more value emails than offer emails because this is what will make customers trust you more)
Always have a CTA in EVERY EMAIL. You never know when the lead will decide to make a reservation.
So for example, this is how your email sequence can look like if your client is a BBQ restaurant like mine was:
Email sequence 1- "Verification email". In here I asked people to reply to the email asking for their birthday information and also whether they have eaten at the restaurant before. I got hundreds of replies from the participants.
Email sequence 2- "Why does Gordom Ramsey mix red wine and meat?" (Value email)
Email sequence 3- "This one trick will make your meat more delicious" (Value email)
Email sequence 4- "If you had the chance to get a free wine for just eating at our restaurant, would you take it?" (Here is your chance to offer a bait) (Offer email)
Email sequence 5- Value emails continue and from now on the bait is offered always mentioning the deadline. (Value email)
3) Take advantage of the high traffic in your facebook page;
If you are getting about 100 leads daily, you are also probably getting about 500 likes in your page by now, and LOTS of page views.
Whatever you post in your Fb page by now will get from 20 to 50 likes. This is a great opportunity to post about your business, services, products, etc. In the case of the restaurant, pictures of the delicious meals.
Make sure you always include a CTA. "Find us in xxx".
4) Build up high expectations for the giveaway deadline date/offer:
Four days before the giveaway is over, start emailing and also posting in the Fb page about the soon to be expired offer. Also post this in the Facebook event, which by now probably has about 1000 RSVPs.
Lots of people will see the reservation link and will want to make their reservation. Additionally, create a Custom Audience of the people that has engaged with the page in the last 14 days, and create a Reach campaign targetting this audience into one of your best posts with a reservation link.
In the case of the restaurant, I added a Google form link to collect all the reservations. Boom! The last 4 days I got about 90 reservations out of the 113 collected.
Thanks to this strategy, now restaurant has reservations for almost everyday of the next months
Hope this helps you!