In search of how to get more landscaping customers? Wondering what are the best ways to get lawn care customers? You're in luck. I've got 4 online marketing methods designed to help you grow your landscaping business. Truth be told, I've could've stretched this to 10 methods but I'm already at a thousand words for this article and I feel just these lead generation tactics alone should keep you busy :). I'll save Part 2 of this guide for another day.
1) Use Craigslist Classifieds To Increase Landscaping Leads
An oldie but goodie lead gen tactic. It's actually even more profitable now because Craigslist recently started charging $5 to post to the classifieds. This has resulted in less spam and clutter. This, in turn, makes it easier for customers to search the classifieds which leads to more inquiries for serious businesses like yourself. I've read a few comments on various forums that posting to Farm and Garden category allows you to bypass the $5 but this differs from city to city. But hey, $5 is still pretty damn cheap even if you have to pay for it.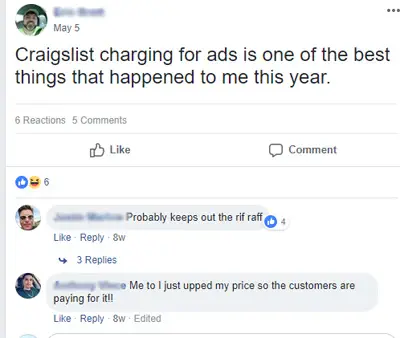 Increase the likelihood of someone clicking through to your classified listing and calling you by doing the below;
Your post title should include the cities you serve. The majority of the listing titles are really generic. "Lawn care service" or "Landscaping services" are common. Instead, "Lawn care services for Miami" attract more readers as they scan through the dozens and dozens of listings
Include top quality images in your post along with a couple of yourself or team. It looks more personable
Include a testimonial or two
Bullet list the services you offer. Remember, people don't read so much as they scan.
2) Get Landscaping Customers With Local Facebook Groups and Marketplace
A) Post To Groups and Marketplace
Do a search for your city or subdivision, and you'll likely find Facebook groups that allow people to post and advertise their services. Admittedly, most of these listings are spam, but I know of plenty of landscaping companies who have gotten consistent leads from them. Landscaping companies tend to see higher response rates than other businesses simply because lawn care is a service that homeowners consider to be a necessity.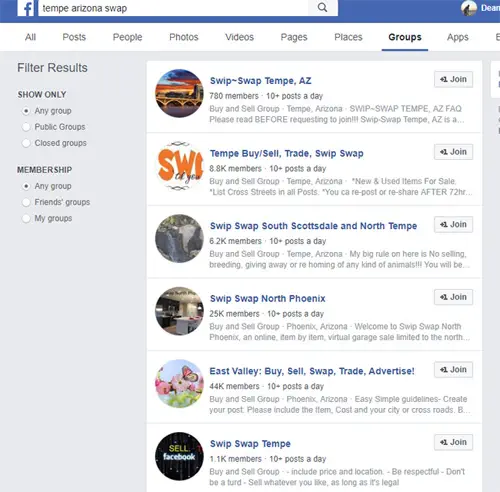 Facebook Marketplace, on the other hand, can be hit or miss. Some owners have reported their listing getting taken down since the marketplace is primarily to help sell or get rid of items you own. Not to sell a service. To ensure better odds, I would try keeping your listing to the Garden category like so;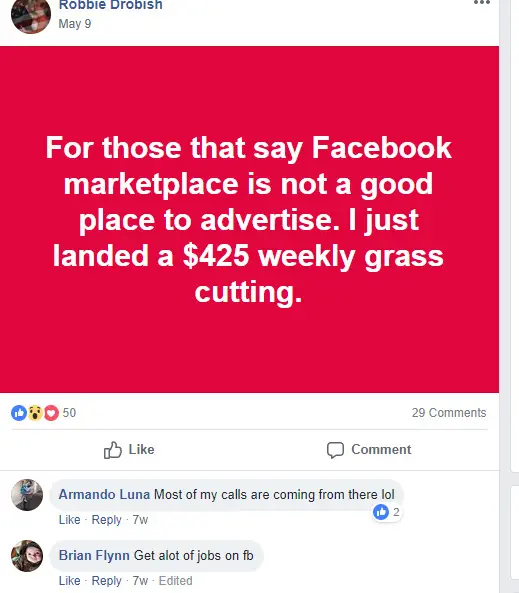 3) Join Nextdoor To Find More Lawn Care Customers
Nextdoor is niche social networking site for people and their neighborhoods. Its Craigslist meets Facebook with a hyper-local flavor. There is a section for events, classifieds, and general discussions. Discussions regarding lost and found pets, HOA fees, and local traffic are some of the more popular topics. But what I've seen from using the platform is the consistent inquiries for home services such as landscaping and lawn care. Here are several crucial steps you need to take to pick up clients from this site;
Create a comprehensive profile. This sounds like a "well duh" tip, but it needs to be said anyway. A well-developed profile along with a headshot and bio creates a little bit of trust between you and a prospect. Nobody wants to do business with an empty profile
Download the Nextdoor app and turn on notifications. Once notifications are on, it's easier to monitor the inquiries. I've found when inquiry threads are started, people are fast to chime in, so you want to get in on the action quickly as well
Claim your business profile. This works similar to claiming a Yelp business profile. When people mention your business, you'll get a notification. This allows you to interject yourself into the conversation of your business and maintain control of your brand while seeing what others have to say about you.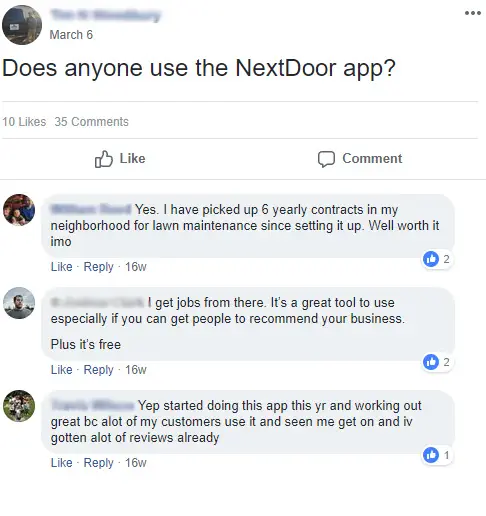 4) Reach Out To Real Estate Agents and Property Managers
After selling a home, the home buyer may need recommendations for a landscaping professional. Or even before the home selling process starts, the homeowner and agent may have decided that they need specific landscaping projects done to improve the curb appeal of the home. I have found that the savvy real estate agents like to have their own "welcome" package that includes the contact information of various home services professionals such as a plumber, home remodelers, and of course landscaping professionals such as yourself. It's because of these dynamics that make realtors an ideal audience to reach out to.
How do you reach out to agents?
There are several ways to skin a cat;
Approach #1; Cold email or cold call outreach
There are numerous methods of finding local realtors which includes performing a simple localized search on Google or Yelp. Regardless of how you find the agents, you'll need their email along with an email sales automation tool like Mailshake or Saleshandy. Please note that this is not the same as blatantly bulk spamming people, though I can see why you would see it that way. There are subtle and nuanced differences, and I suggest reading a beginners guide to cold email to educate yourself on the process.
When you reach out to agents, you can expect many of them to ignore your initial email. We're all busy, and it sometimes takes a few emails and a follow-up call to get through.
If you don't like dealing with the hassle of technology and learning a new tactic, then you can do cold calling as well. This is more effective provided you have a thick skin.
Either way, networking with agents can be lucrative. Agents know other agents and this leads to a pipeline of referrals. And successful agents sell a lot of properties, so you're looking at a lot of repeat business.
Approach #2: Contact Agents Through their Facebook page
If you don't want to spend the time organizing an entire prospect list in approach #1, you can try prospecting them through their Facebook page or join local real estate groups. Let's say you have a lawn care business in Jacksonville Florida, here's how you would execute a Facebook outreach;
Perform a Facebook search for "Jacksonville FL real estate agent". You then filter by Pages and then start sending a templated message to each agent. Or
Or if you don't want to prospect by page, filter by Groups rather than Pages. Look for groups that cater to your city. If you live in a small city, try finding a larger city that is close by or search by county and then by state as a last resort. Think micro before you expand to macro.
Join the groups, pay attention to their solicitation or spamming policy. Some groups are laxer than others.
Introduce yourself and let the agents know that you're interested in helping them grow their business by providing a valuable
This can be time-consuming but worth it given the need can be urgent on behalf of the agent.
Here's a quick two-minute video explaining the Facebook Outreach approach
Approach #3: Identify Agents Through Facebook Marketplace
Would you like to get in touch with agents who have an urgent need for your service? Of course you do. Those are the best prospects. The ideal agent are those who are selling a property right now and need a lawncare professional to maintain the home and improve curb appeal. Here's how you do it;
Go to Facebook Marketplace
Browse to the Housing category and click through Properties For Sale.
Voila- a list of all properties on sale through Facebook. You have critical information at your fingertips such as price, location, and property size that you can filter by.
Click through to view the property and you'll find that each of them has the listing agent that you can message through on Facebook.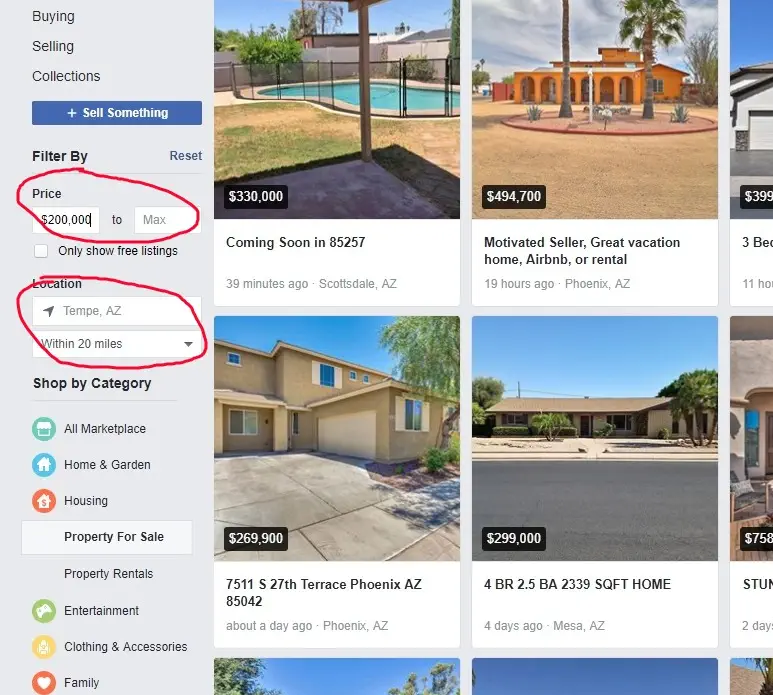 Approach #4: Use Linkedin to find Property Managers (and agents)
Most white collar professionals are on Linkedin. Linkedin has done some of the heavy lifting for you by aggregating your target audience into one place. Now, you just need to develop an approach that will fill up your sales pipeline.
Perform a search for property managers or realtors in your area,
Send a connection request. Do not use the default Linkedin invitation template as you will not get a high acceptance rate. Develop your own custom template and include their first name when connecting. I've gotten acceptance rates between 40% to 60%.
I don't recommend pitching in the initial connection request because Linkedin only allows 300 characters for the invite. This doesn't allow for much. Instead, after they have accepted your invite, you can then pitch them a partnership as you would in approach #2.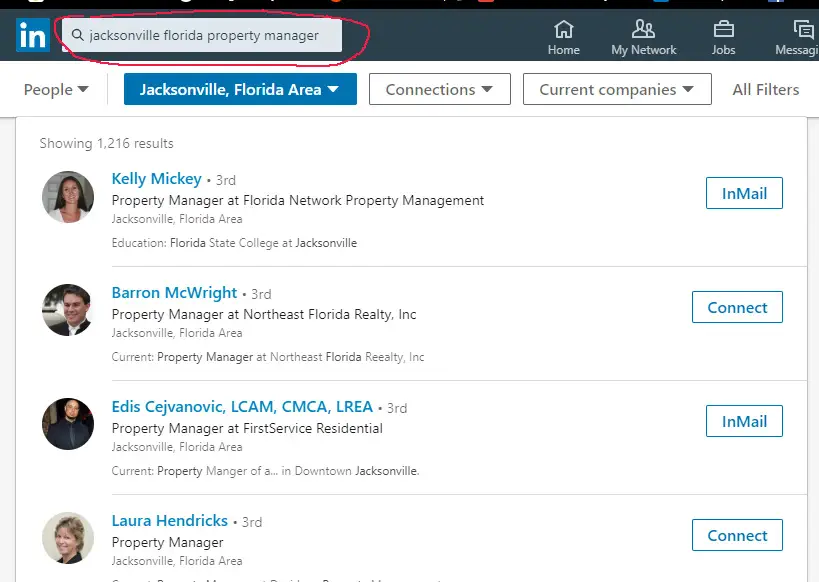 Note that it's alot easier to search if you pay for Linkedin Sales Navigator which has more robust search options. For example, with LISN, you can search for people within specific cities rather than defaulting to a region such as "Washington, DC area".  If you run a landscaping company with a large coverage area, then this may not matter. If, however, your coverage area is for a few cities or, say, under 10 miles, then LISN can really help with the filtering.  It's $65/month but you make your money back with one client. I believe they also offer a free 30 day trial.
So there you have it. The first three are relatively easy to implement and can fill your pipeline with new business. And the 4th method can be time-consuming but lucrative. Still not satisfied? Prefer marketing tactics that don't take up your precious time as you prefer to run operations? Contact me about how a strong Google Adwords or Facebook ads campaign can skyrocket your landscaping business.
Additional Reading: The Ultimate Lead Generation Guide For Construction Companies