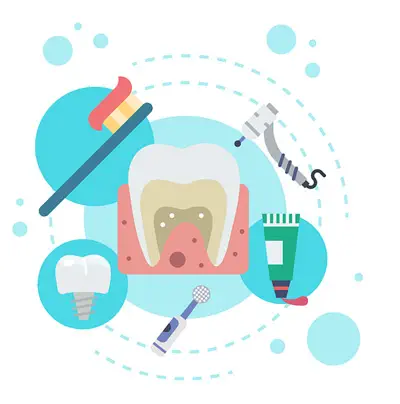 Are you getting traffic to your website but have this nagging feeling that you could do a better job of converting the traffic into actual calls and patients? Welcome to the club. This club you just joined has a membership that consists of many business owners who invested a lot of money into a website, and they are not sure if it is converting visitors into customers.
Thankfully, converting visitors into actual customers is within your control if you implement the six content pieces below. It does not take long, and I am confident you will see immediate results. I'm using a recent experience I had with finding a new dentist to help convey the importance of including the six elements below.
Since I live in a dense metropolitan area, there isn't a shortage of dentist to choose from when I conducted an online search. Online competition is fierce. The search process looks something like this;
Perform a google search,
Click through multiple sites
Find a dentist that "I like" and schedule an appointment.
However, a lot is going on between step 2 and 3 above to influence who "I like."
Having nine years in digital marketing and a few of those years in web development, I found there are six content elements that can influence and win over more patients for a dentistry practice. Intuitively, website visitors click away if your site is missing some of these elements. And others will gravitate to you if the below are found on your site. The first three tips help to engender trust. The last three suggestions help to create a smoother operational experience.
Lacking real photos. It's okay to use some stock photos to enhance the quality of your site, but you need to balance it out with real pictures of the actual staff and doctors. It strengthens the connection between a prospect and the practice when they can see real images of the people running the practice.
Missing content about the Dentist and staff. You offer a very personal service. You don't need to write an essay, but it would behoove you to have a page talking about the dentists and staff. It creates a friendlier tone with a business that the patient intends to patronize for many years to come. There are many websites of dental practices that, between this and #1, create a cold tone for their site devoid of any personal connection. Get personal.
Lack of Reviews. If you are an established practice, you can probably get away with omitting patient reviews on your website. However, if you're a young practice, every website visit counts and having patient reviews is a great way to engender trust. It's easy to retrieve reviews from your Facebook, Yelp, or Google Local profile. There's no excuse not to do so.
Lack of maps or directions. Your business is local. Make it easier for people to find you on the map by integrating Google maps and explaining what landmarks you are nearby. If the practice is in a densely populated area, then this can result in fewer "I can't find your place" phone calls. Less customer aggravation results in a smoother experience.
Lack of patient forms and insurance information. Providing forms on your site can expedite the process especially with new patients. Many people are spending time filling out new forms upon arrival. It's a tedious activity many people dislike. Make life easier for them by providing the forms online. This will make the new patient acquisition process a lot easier.
Missing an Overview of Financial Options. Getting teeth fixed is expensive. Many individuals and families are on a tight budget. Have a page that shows what sort of financing options are available makes it easier for both sides. It results in less time your staff spends on the phone explaining the options. Moreover, it creates peace of mind from the customer's perspective.
You will have a small impact if only one or two of these tips are implemented. However, the power lies in applying the aggregate of all of these elements onto your site which can significantly increase calls and appointments.